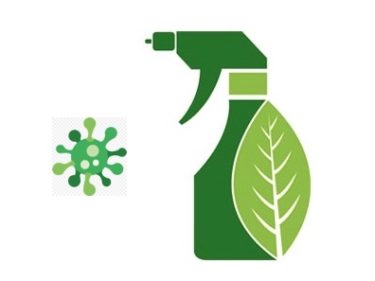 In the midst of the current virus outbreak, many of us are seeking ways to disinfect. Be aware that some products that kill viruses in the short term, also contain chemicals that can leave residues on surfaces that may impact our bodies in the longer term. For example, Lysol Disinfecting Wipes get grade of "D" on the Environmental Working Group's (EWG's) healthy cleaning product ranking, because the ingredient alkyl dimethyl benzyl ammonium chloride is a potential cause for general systemic/organ effects, respiratory effects; and possibly developmental, endocrine, or reproductive effects. Clorox Disinfecting Wipes also get a "D" for the same reasons. Purell products have mixed EWG ratings so best to check individual product.
Aside from washing with basic soap and water (synthetic fragrance-free always a safer choice), the Environmental Protection Agency has created a list of disinfectants to address the virus, and lists hydrogen peroxide as a COVID 19 killer. Most sources are recommending a 0.5-3% solution.
Seventh Generation produces safer disinfecting products that use thymol as their main ingredient. While the product website does not specifically state that they can kill COVID 19 yet, the company attests that the products eradicate Influenza A virus, H1N1, Rhinovirus type 37, and Methicilin-resistant S. aureus (MRSA). The website says: "Seventh Generation disinfectants are not registered under the EPA's Emerging Viral Pathogen program at this time. We have submitted an application under this program and will provide an update here once EPA review is completed."[1]  The brand CleanWell offers a similar set of products (wipes and hand sanitizer) using thymol.
Also for hand sanitizer, one natural brand we suggest in this case (overdoing alcohol isn't advised) is Dr. Bronner hand sanitizer which uses ethyl alcohol, water, organic lavender oil, and organic glycerin. You can make your own hand sanitizer with these ingredients (solutions with at least 60% alcohol will work):
Though they do effectively kill various germs, no sources are specifically recommending the use of vinegar or tea tree oil against coronavirus. Be healthy! #CoronaVirus #GreenCleaning
[1] https://www.seventhgeneration.com/blog/coronavirus-information-and-resources