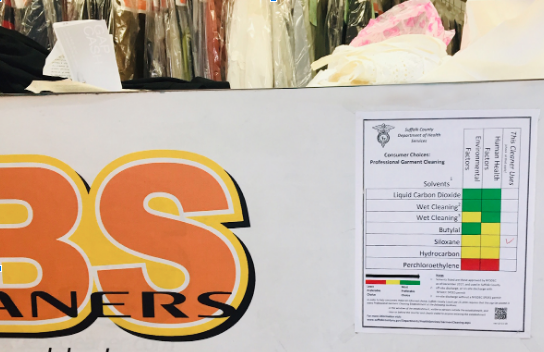 Headed back to work and using dry cleaning services again? If you live in Suffolk County NY, you may have noticed that you have access to information that others do not. Thanks to Legislator Kara Hahn, as of 2019, Suffolk County dry cleaners must provide signage on their methods. The Local Law to Increase Awareness of Dry Cleaning Chemical Use (Local Law 15-2016) requires dry cleaners to post a sign in the window and on/near the counter, that lists the types of solvents/methods they use. The sign, produced by the Suffolk Health Department, is color-coded and provides an easy-to-understand guide showing both the health and environmental impacts of the method in use-- helping empower YOU as the consumer to make the best choices. If a sign is not displayed in visible locations at your dry cleaner, you can notify the County Health Department at 631-854-2501.
Most dry cleaners still use PERC, which is classified as a likely human carcinogen, a nerve toxin, and can also damage the liver and kidneys. It can vaporize into the air, so some states prohibit PERC use in storefront dry cleaners located below apartment dwellings. In California, all PERC machines must be out of use by 2023.
There are several alternatives to PERC:
Hydrocarbons:

petrochemical based solvents that studies have found to be eye and skin irritants, and to cause headaches and dizziness at high doses. It is yet undetermined whether hydrocarbons cause cancer.

*NOTE*

Typically, if a dry cleaner is using hydrocarbon they advertise it as "organic." Do not be confused by this—the word organic in this context is referring to the chemistry of the substance being carbon based,

not

that the cleaner is chemical-free. Use of this word in dry cleaning ads is prohibited in Suffolk County.

Wet cleaning:

clothes washed with a commercial grade detergent in a specialized machine. Generally considered the greenest of all the options.

Greenearth, or liquid siloxane

: Degrades into silica and has no human health effects, though studies found lab animals developed tumors if exposed to high concentrations.

Liquid CO2:

Pressurized CO2 in a specialized machine; sometimes may also use some detergent as well.

Butylal or K4

- there is insufficient toxicological and health information to determine the safety of butylal on human health, but data so far is promising that it does not pose an environmental hazard.
Green Inside and Out is happy to have helped develop and drive support for this signage law, and is working to do the same in Nassau County. Want to help? Write your Nassau legislator.
Want to find a greener dry cleaner on LI? Check out our Dry Cleaning resources and download our "green paper" called "Defining Green Dry Cleaning" produced in collaboration with Prevention is the Cure.